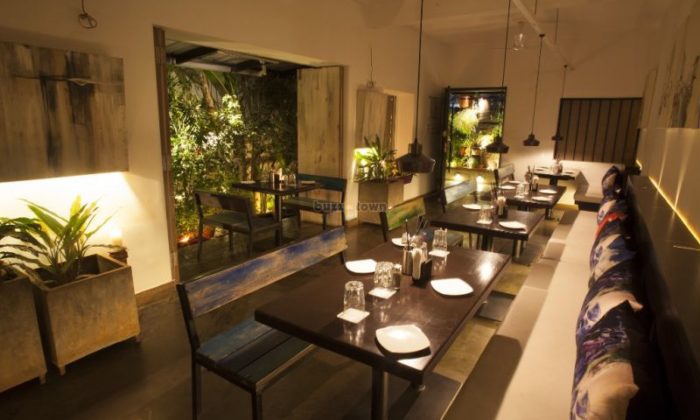 The name sounds cheesy but don't get fooled by the name. If you are looking for something intimate, yet classy but not too casual or too formal, the Phobidden Fruit on 12th main road Indiranagar might be the place for you.
I've visited this place about three times; it is a beautiful place for a first date, where you don't want things to be too formal or too casual, but somewhere in-between. The music too isn't loud, and it's possible to have an audible conversation.
Another advantage of this place is that there are several restaurants close by to pub hop if your date goes well.
It is probably the only vietnamese restaurant in Bangalore. The ambiance is casual yet classy. The last time I visited this place was a Friday afternoon, I was there to meet a business connection, and I was late by 20 minutes. I somehow found parking on the street, parking might be a challenge during peak hours, but for some reason, I've been lucky with parking during my last three visits.
When I finally arrived at the vietnamese restaurant in Bangalore, I wasn't sure what to order. I asked the waiter if he could suggest something, and he wasn't of much help. I tried to remember my friend's order the last time around, but my memory couldn't help me here either.
Eventually, I ended up ordering a chicken dish. It was a well presented side dish, not too spicy, nor too sweet, just the ideal balance. I also got veg noodles along with it, which was too sweet for my liking.
Overall, I thought the food was average. It's not a place one would go for the food, but for the ambiance. If you are looking for a place where the music is not too loud and would like to have a conversation, then this is the place for you.
Positives: Great ambiance (almost surreal), soft music, casual dining.
Negatives: Service can get better, the waiters were polite and friendly but they were not trained at all. Service staff must learn to educate guests about Vietnamese food, and offer suggestions.
Address: 965, 12th Main Road, HAL 2nd Stage, Indiranagar, Bengaluru, Karnataka 560038
You may also want to check out pubs in mg rd, Bangalore, which is less than 5 km from Phobidden fruit.