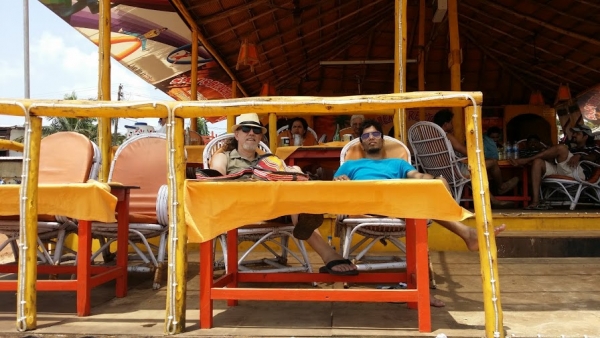 If you like the beach, beach culture – including open hut bars on the beach — restaurants, nightclubs, streets lined with craft shops, then odds are you'll like Goa. It's a melting pot of Indian, expat, and traveler culture that I have not experienced anywhere else in India, yet.
Many different beach areas along the coast stretch 200 kilometers, including Baga Beach, Arambole beach, Anjuna beach among many others.
My Goa travel stay was at Baga Beach. The Sunset Cottages cost us a combined R1,450 per day and served us well; the rooms weren't huge, but were suitable – two beds, a large clean bathroom, overhead fan, air-conditioning, and a small front porch.
The grounds were welcoming. They had lots of foliage lining paths throughout the complex, outdoor clusters of seating to entertain small groups, and hammocks for relaxing.
Their patio restaurant was open all day, and you could access Wi-Fi for 150 rupees per day. Motorcycles and scooters were available for rent by the day; scooters Rs 300, Avengers Rs 450, and Bullet's Rs 750; plus they also had access to arrange Goa Travel tours and trips, none of which were of interest to me.
The walk to the beach was only two minutes, where we quickly found Sams, one of the many hut bars, with a roof but open on all sides. We'd grab our comfortable chairs each day at the front edge of the bar, overlook the ocean and sip cocktails.
I could feel my body decompressing on the first day – so this is what relaxing felt like, I had almost forgotten.
By nightfall, people began filling the many chairs in rows out on the beach in front of the hut bars; hundred of people until the early hours of the morning.  We even have a small group of 5 cows meander onto the beach –they circled around, found a nice spot, and sat and relaxed for the duration of the night.
Another few minute walk further, and you'd reach a strip of clubs, restaurants, and shops. Tito's was our daily breakfast spot (and 1 pm). It' a large outdoor restaurant complex with a covered roof, and fans.  The heat in May was oppressive during the day. Thus we spent a few afternoon hours there each day working online.  You can get a good western-style omelet here along with a pot of coffee.  The grilled Pomfret (fish) with vegetables and rice for donner one night took my breath away – it was the best meal I've had in years while it was expensive, but worth every rupee.
In the lower section, they had a pool table full of players most nights, served beer and liquid, plus sandwiches; burgers cost R180 and were pretty tasty.
If you like to gamble, there are several floating casinos in Pajin City – 12 kilometers away. The Deltin Royale was very well done, and their entry fee of Rs 2500 includes an open food and dessert bar that was well-stocked and quite good. If you play poker, talk the room manager, and you can likely get on his guest list (as I did) to avoid the 2,500 rupee entry fee).
We rented two Bullets and traveled about 150 kilometers to the various beaches — stopping along the way at the Blue View Resturant on one of the mountain roads that overlooked the ocean, where I had a terrific grilled Red Snapper.
That ride took us to Anjuna beach and Arambole beach, as well as Candolim near Panaji.
The height of the season, which also means the height of the crowds, is November to February. The off-season, March, April, and May can be sweltering hot during the days – well into the 40s+ (90s Fahrenheit), but it didn't stop EVERYONE coming out the beach at night to drink, mingle, eat and enjoy the summer breezes. Most stayed well into the early morning hours: when the bows came down in herds to relax.
By June the Monsoons arrive; I think that might be an exciting time to be there. I'll have to try that one year.
See more photos from my Goa Travel on my Facebook gallery here