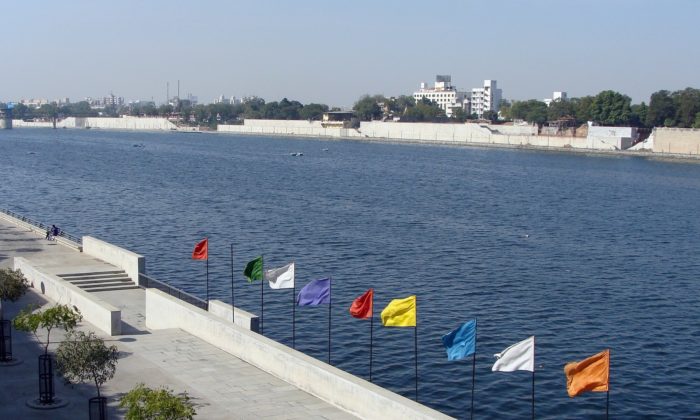 Ahmedabad sightseeing in the western state of Gujarat is a step back in time, with it's historical momuments, is also known as the home state of the current Indian Prime Minister (Modi), as well as Gandhi Ji, the father of the nation.
I landed in Ahmedabad to balmy weather; it reminded me a bit of Miami with it's warmth and humidity. The city is a bit more traditional than Bangalore, though not with any huge visual differences (that I noticed initially).
Ahmedabad historically, because of all it's cloth mills, had often been referred to as the"Manchester of India." Today it is the fastest growing business city in India, and currently the financial center for the state.
The driving is just as chaotic as Bangalore, maybe more so — if that is even possible. Bangalore driving I've written about several times, but here in Ahmedabad they just defy logic. At midday an auto-ric taking me crosstown approaches a large multi-way, multi-lane intersection and proceeds to go through the red light and into the heart of the several lanes of traffic without hesitation. Moreover, he forced the traffic with the right of way (the green light) to stop and or swerve to avoid hitting him as he navigated his way through the mele.
The people here are nice enough, and like Bangalore [when they're not driving or riding], are courteous, polite, friendly and helpful.
AHMEDABAD SIGHTSEEING – Places to see
No matter where you travel, you can't be sightseeing and/or traveling without a break. So to just chill and decompress they have the only riverwalk (Sabarmati) I am aware of in India; with path-lined gardens. Take a leisure walk, or take a boat ride. I preferred it at night when the riverwalk is lit up and the temperature lower.
Inside The Walled City section of Ahmedabad section you'll find old Ahmedabad, with narrow streets, marketplaces, older architecture, and the remains of the arch of the Bhadra Fort, now barely noticed by the locals as they setup their stalls right in front of it, partially blocking it from view. But if you can use your imagination, you can visualize its one time grandeur; as well as the grand plaza now overrun with market stalls as well. You may even see an elephant or two walking the streets; camels are also common here. It's part of Ahmedabad sightseeing.
What would an Indian trip be without visiting a temple? The Akshardham Temple, and the Hathee Singh Jain Temple don't disappoint.
If history interests you, visit the Gandhi Ashram, the base for Mahatma Gandhi and the Freedom Fighters during the time of their struggle for independence from the British Empire. Also, stop in at the Gandhi Museum, which displays letters, photographs, and historic event information. These are some must-visit Ahmedabad sightseeing locations if you want to visit.
Indian sculptures, painting, bronze works, drawings, coins, wood works, manuscripts and beadwork display Indian heritage and culture at the Lalbhai Dalpatbhai Museum located near the university of Gujarat, in the Navrangpura area.
There are two important mosques in Ahmedabad: 
The Sidi Sayed mosque is one of the oldest in India. built in 1573 it has the original marble, and is visually stunning. And, with 15 domes and 260 spires the Jama Masjid is one of the oldest mosques in Ahmedabad, built in the year 1424. It was during the era of the Sultan Ahmed Shah, built in his time as a place of worship only for Sultans.. It's English translation if Friday Mosque, and it is now a tourist attraction with many visitors each year.
If nature is your thing, the Kankaria Lake is 2.25 square kms located in the southern part of the city, in the area known as Maninagar. It features natural beauty — in the center of the lake is Nagina Wadi, which in the language or Udu means beautiful garden. It was built up by the Sultan Kutubuddin in the 15th century. The lake area also features, food stalls, tethered balloon rides, water slides, and many picnic areas. Another option is Vastrapur Lake in the western part of the city. It's a place the relax and unwind, with many new facilities, and a favorite among locals for early morning walks.
For food lovers, stroll along the Manek Chowk, the most popular street for tradition food. You'll find Indian modern, Desi and traditional dishes, but also Chinese, Mexican, Punjabi, and continental. Close by, you can also visit the Rani Ni Hajiro tombs. Based on Indio-Islamic architecture, it is considered a national monument of importance, There are eight tombs, housing the queens of the Shah Amed and other sultan rulers. There is also shopping near the site.
Footpath stalls are abundant for shopping in the Lal Darwaja local market, with a wide variety of items from shoes to trinkets. NOTE that you can bargain them down, sometimes from Rs.1000 to as low as Rs. 200.
Like Cricket? Stop in and watch a match at the Motera Stadium, also known as Sardar Patel Stadium. It can host 56,000 spectators, making it the largest stadium in the state of Gujarat. As a tourist you need to seek permission from the GCA to visit there.
WHERE TO STAY IN AHMEDABAD INDIA
My hosts here found me a moderately-priced, nicely-decorated place to stay called the Hotel Furaat Inn in the Ellisbridge part of town near the college. Later I moved to the Riverview (right at the foot of the Nehru Bridge). The rooms were slightly more upscale, with a "great" shower (not to be taken lightly in India) and a terrific restaurant.
WHERE TO EAT IN AHMEDABAD INDIA
Once you are done with Ahmedabad sightseeing, here are some restaurants and cafes with ambiance worth exploring:
Tomato is an American-styled place, sort of akin to TGIFs, with a wide menu of American, Indian, Chinese, and some Thai cuisine. I ordered a Mexican Chicken Enchilada, which though it was nothing like a Mexican Chicken Enchilada, was very tasty.
Sphere Lounge is an open-air rooftop cafe at the Ramada. It was very casual, drawing a younger crowd that gathers to have mock cocktails, starters and sandwiches. Contemporary music plays at a comfortable level, while images are shown on a large screen — sometimes sports, other times music videos. The Mexican Nachos might have been the best I have had anywhere in India to date, and the Mexican Veg Panini was also very good; everything is strictly vegetarian..
Java Cafe at the Courtyard by Marriott is casual, has a large screen TV, free Wi-Fi and an outdoor patio. It really packs up on Sundays. It seems to be the "in" spot among the local college and young adult set.
Skyz Restaurant is the nicest place I've been so far, also a rooftop restaurant (near the Ramada). It features indoor seating, as well as a garden-like terrace restaurant, Live subtle music, and terrific vegetarian only food.
If you want indoor air-conditioned dining with a wide menu, including western-style, the Eatery at the Four Points by Sheraton (also in Ellisbridge area on Gujarat College Road)) has become my go-to spot a few days per week. While I tend to get a Cheese and Mushroom Omelette, with hash browns, toast, grilled tomato and a pot of coffee most days, they do also have things like Herb Grilled Chicken with mashed potatoes and vegetables, and an all you can eat lunch and dinner buffet (Rs. 700 and 1000 respectively).