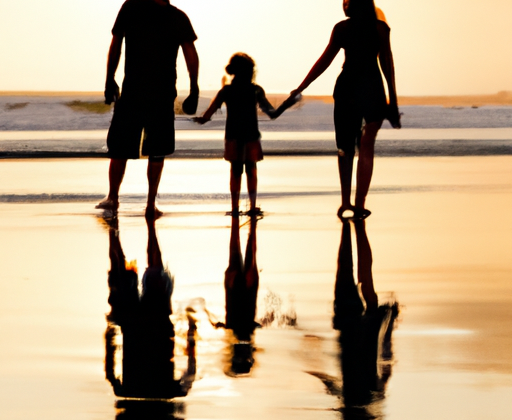 Gather 'round, fellow adventurers! We all know that finding the perfect family holiday is like searching for a needle in a haystack. But fear not! I've got you covered with some top-notch, out-of-this-world tips to help you plan the most extraordinary escapade for you and your loved ones.
Now, before we dive headfirst into this thrilling adventure, let's kick off by defining what we mean by a "Perfect Family Holiday." Picture this: a blissful trip that leaves no room for boredom, where everyone in your tribe can reconnect, laugh, and make lifelong memories. It's the kind of getaway that suits every age, interest, and personality.
So, strap on your travel boots, folks! We're about to embark on a journey filled with joy, excitement, and maybe even a few mishaps along the way. Get ready to write the chapter of your family's perfect holiday tale!
Planning the Perfect Family Holiday
So, you've decided to embark on the wonderful adventure of planning a perfect family holiday! Let me tell you, it can be quite an exciting journey, but also a tad overwhelming. Don't worry, though, because I'm here to guide you through the process and share some valuable tips that will make your planning experience a breeze!
First things first, establishing goals and expectations is key. Sit down with your family members and have an open discussion about what you all hope to get out of this vacation. Whether it's relaxation, adventure, or cultural immersion, understanding each other's desires will help you shape a holiday that caters to everyone's needs.
Budgeting is another crucial step in the planning process. Determine how much you're willing to spend on the trip and allocate the funds accordingly. Remember, it's not about splurging on everything but finding a balance between cost and quality. By setting a budget, you can make informed decisions on accommodation, activities, and dining options that won't break the bank.
Now, let's talk about choosing the ideal destination. This decision can be influenced by various factors such as weather, accessibility, and personal interests. Consider the preferences of each family member and try to find a destination that offers a little something for everyone. Whether it's a beach getaway, a city exploration, or an adventurous retreat, make sure to do your research and find a location that ticks all the boxes.
Finding the right accommodation is essential to create a comfortable and enjoyable experience for the whole family. Look for family-friendly hotels or resorts that provide amenities and activities specifically designed for children. This will ensure that your little ones are entertained while you relax and enjoy some well-deserved leisure time. Booking transportation and other travel services in advance will also save you from last-minute hassle and stress.
When thinking about the activities to enjoy on your family holiday, the sky's the limit! Sightseeing is a fantastic way to discover new places and create lasting memories together. Explore famous landmarks, immerse yourself in the culture, and don't forget to capture those picture-perfect moments. If you're an adventurous bunch, outdoor activities like hiking, kayaking, or even zip-lining can add an extra thrill to your vacation. And of course, make sure to include some downtime for relaxation and rejuvenation, because every family holiday needs a little bit of leisure.
In conclusion, planning the perfect family holiday requires careful consideration, communication, and research. By setting goals, establishing a budget, choosing the right destination, making suitable accommodations, and planning exciting activities, you'll pave the way for an unforgettable experience. So, buckle up and get ready for a journey filled with joy, laughter, and incredible moments with your loved ones. Don't forget to check out this useful article for additional tips on maintaining strong relationships with your relatives while on vacation!
Making Accommodations
So, after setting the goals and expectations for our perfect family holiday, it's time to dive into making accommodations. Let me tell you, finding the right hotel or resort is absolutely crucial to ensure a smooth and enjoyable trip for everyone.
First things first, when it comes to finding the perfect hotel or resort, I highly recommend doing some thorough research. You want to choose a place that caters to families and offers amenities that suit everyone's needs. Look for hotels with spacious family rooms or suites, kid-friendly activities, and even options for babysitting services.
Next, it's time to reserve transportation and other travel services. Depending on your destination, you might need to book flights, rental cars, or even train tickets. Don't forget to consider the convenience of airport transfers to your hotel, especially if you have young children or lots of luggage.
Now, here's some expert advice that often gets overlooked – check out reviews from other families who have stayed at the hotels or resorts you're considering. These real-life experiences can give you valuable insights into the quality of service, cleanliness, and suitability for families.
Oh, and is it just me, or does anyone else love a good bargain? Don't be afraid to shop around for deals and discounts. Look out for package deals that bundle accommodations, transportation, and even activities together. Trust me, your wallet will thank you!
Lastly, if you're looking for flexibility or a more unique experience, consider alternative accommodations like vacation rentals or even camping. This can be a great option for families who want more space or the chance to immerse themselves in nature.
4. Activities to Enjoy on the Trip
So, you've planned the perfect family holiday and now it's time to have some fun! Let's dive into all the exciting activities you and your loved ones can enjoy during your trip.
First things first – sightseeing! Explore the famous landmarks and attractions of your destination. Take snapshots in front of iconic monuments, visit historical sites, and immerse yourselves in the local culture. Don't forget to bring along a guidebook or use a smartphone app to learn more about the places you're visiting.
But hey, don't limit yourselves to just sightseeing! Spice up your family holiday with some outdoor adventures. Go hiking in scenic national parks, ride bikes along beautiful trails, or even try your hand at water sports like kayaking or paddleboarding. These thrilling activities will create unforgettable memories and allow you to bond as a family.
Now, we all know a family holiday should also include a bit of relaxation. Find a serene beach or picturesque park and simply unwind. Lounge under the sun, play beach volleyball, build sandcastles with the kids, or enjoy a picnic with delicious local food. Remember, vacations are meant to rejuvenate the mind and body!
Before wrapping up this section, let me share some expert advice. Be sure to plan activities that cater to the interests and ages of everyone in your family. If you have teenagers, consider including visits to theme parks or adventure parks. If you have younger children, find family-friendly activities like petting zoos or interactive museums. This way, everyone will feel involved and excited about the activities you've planned.
So, get ready to make incredible memories with your loved ones. From sightseeing to outdoor adventures and relaxation, your family holiday will be packed with activities that everyone will enjoy!
Conclusion
So, there you have it, folks! We've reached the end of our journey in planning the perfect family holiday. Now, let's wrap things up and go over some key tips that will ensure your vacation is an unforgettable experience for everyone.
First off, it's crucial to establish clear goals and expectations before embarking on your adventure. Sit down with your family and discuss what each member hopes to get out of the trip. This will help you tailor the holiday to suit everyone's desires.
Next, setting a budget is vital to avoid any financial stress during your vacation. Take the time to crunch the numbers and determine how much you can realistically spend on accommodation, travel, and activities.
Choosing the ideal destination is no easy task, but with some research and input from the family, you'll find the perfect spot. Consider factors such as weather, attractions, and family-friendly amenities to ensure everyone has a fantastic time.
Making accommodations is another crucial step in planning your holiday. Find a hotel or resort that caters to the needs and preferences of your family. A comfortable and convenient place to stay will ensure everyone can relax and make the most of their time away from home.
Don't forget to book transportation and other travel services in advance. Whether it's securing a rental car or reserving seats on a tour, having these logistics in order will make your journey smoother and more enjoyable.
Now, let's dive into the fun part, the activities! Sightseeing is a must-do, as it allows you to explore and discover new places together as a family. Whether you're visiting famous landmarks or off-the-beaten-path gems, these experiences will create lasting memories.
For those seeking some adrenaline-pumping adventures, make sure to include outdoor activities in your itinerary. From hiking and biking to water sports and wildlife encounters, there's something for every adventure enthusiast in the family.
Finally, don't forget to take time for relaxation. After all, a perfect family holiday should strike a balance between active exploration and downtime. Whether it's lounging by the pool, enjoying a spa day, or simply spending quality time together, relaxation is essential for everyone's well-being.
So, armed with these valuable tips, get ready to embark on the perfect family holiday. Remember, it's not just about the destination, but the memories you create together along the way. Happy travels!