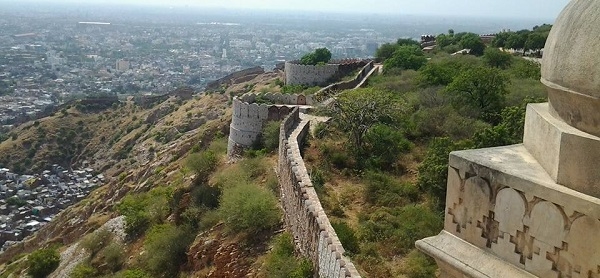 With the two main cities of India — Delhi and Mumbai (Bombay) — to the east and west, and the great Himalayas to the north, Rajasthan is a journey into beautiful scenery and interesting historical architecture.
Rajasthan translates to "Land of Kings." Jaipur is the capital with 2.2 million people and a good place to start. Rajasthan tourist places are vintage. If you want a piece of history, then Rajasthan tourist places is your gateway.
Once there you can begin your exploration in the Pink City, an old market place in the center of town where you can visit the Sheesh Mahal (Lahore Fort or Hall of Mirrors). Afterward walk the streets and shop till your heart's content. From trinkets to handmade shoes, clothing and jewelry, you'll find it in t he Pink City of Jaipur. The territory is also known for its textiles and you can find beautiful handmade sheets, rugs and more.
After a few hours walking the Pink City you can take a short autorick ride to the Albert Hall Museum. It is an hour or two of your time featuring rugs, tapestries, mosaic tiles and many historic artifacts.
If you like history and architecture, the City Palace (also within the city) is a must see. It iis quite stunning in it's sheer size and grandeur, and you should allow yourself a few hours to wander about. And if you didn't make any purchases in the Pink City, you'll find an entire street of shops leading to the Palace entrance.
If you like stepping into the past, there are many treasures to behold in Rajasthan. We spent one day hiring an autorick for 800 rupees and visited the Amber Fort, which is expansive, not only having served as a fort but, a palace as well. And after trekking through passage after passage you can finally sit and relax at the Cafe Coffee Day located deep within the complex, it's terrace overlooking the hillside.
Another fort [and summerpalace of the queen] was Nahargarh Fort, set high on the hill top with a vast view of the city on one side and the hills on the other (see cover photo).
If elephants fascinate you then take a trip to Elefantasy, an elephant park where you can ride an elephant, and kids have lots of attractions to engage their interest. Riding an elephant was a strange sensation: you can feel every muscle in the grand beast move beneath you. Elefantasy is a well organized park and fun for all: adults and kids.
Traveling in Rajasthan
Another tourist park depicting Rajasthan culture and cuisine is the Chokhi Dhani Village, one of the most visited Rajasthan tourist places. While it's a manmade recreation of Rajasthani life, it's still a nice tourist spot where you can wander the village and see cultural dancing, get a sense of history, and feast in a sit down and enjoy a Tahli dinner.
For the adventure lovers, step into a sense of the old silk road of the 8th to 12th centuries during a desert trip. You can drive it yourself, or there are several safari camps.
The Great Indian Desert is Thar, in the northwest of India near the Pakistan border, the 17th largest desert in the world. 60% of the desert is in Rajasthan, with the balance extending iinto Gujarat, Punjab, and Haryana. The desert region of Rajasthan features the ruins of the Indus Valley Civilization at Kalibanga; the Temples of Dilwara, the only hill station — which is the site of a Jain pilgrimage –,
In the ancient Aravalli mountain range you'll find Mount Abu; and near Bharatpur in eastern Rajasthan is the Keoladeo National Park known for its bird life.
When it's time for rest and relaxation head south to Udaipur, the city of palaces. You'll find many comfortable and elegant hotels at one of the two lakesides.
Rajasthan is a trip into history, culture, architecture and adventure with lots of scenic wonders. Leave yourself enough time to see it all.
Read more of my travels through India and expat life
View my photos of Nargarh Fort
View my photos from Amber Fort