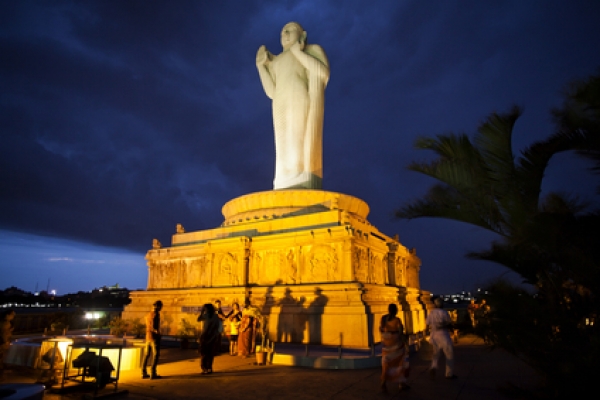 An avid sea lover will give anything to return to the bliss of magnificent blue waters. He will make use of every opportunity to catch a glimpse of the sea. Since forever, the sea destinations have been a travel junkie's dig, and a true travel enthusiast would never avoid a thickly crowded beach as for them the peace comes from the chattering crowd, wails of children, shutterbugs, and others. So deep down inside, if you're also a pathological sea lover, here are some places to visit in Diu and Bheemanipatnam, both unsung and drenched with pristine beauty.
Bheemanipatnam:
It has a long trail of history that proves the existence of Buddhist culture.
The breathtaking tourist junction in Andhra Pradesh has many other attractions apart from the beach:
The lighthouse built during 1868 on Bheemili Beach.
The old Christian Church called 'The Red Church' constructed back in the 1850s, "The Andhra Baptist Church" enriched with history,
The birds-eye view of Gosthani River from the hilltop temple,
Vizag-Bhimili beach road which is a tourist's den,
The Red Earth Hillocks that resemble mini Chambal Valley,
Lord Narasimha temple on the hillock,
The commercial town Thagarapuvalasa situated 5 km away from Bheemanipatnam,
The English graves, in the Hollanders Green.
The remains of Dutch, Buddhist and British rulers bleed history and leave you mesmerized. So if you have had the sea to your heart's fill, don't forget to visit the historical remains and the rural areas. The sculptures on the sea beaches stand witness to southern artistic genius. Get a wholesome tan after a worthwhile sun-bath besides enjoying the beaches and surroundings.
Places to visit in Diu:
Diu has the exquisite beauty of the sea, and the sea lovers gather there to have a chat with the sublime.
Some famous tourist destinations in Diu are:
Diu Fort (a large grey stoned fort bleeding history from every atom, an ideal place for history buffs and photographers where there is).
Nagoa Beach (a horseshoe-shaped beach located 25 minutes away from Diu).
Pani Kotha Fortim Do Mar (the offshore of the Arabian Sea houses this fort jointly made by the Gujarati and the Portuguese to stop Mughal invasion).
INS Khukri (war memorial for the brave souls of our country, the martyrs of the Indian army, where you can also pay your gratitude).
St Thomas Church (a relic of the colonial past is sealed with gothic features).
Gangeshwar temple (a serene religious place visited by devotees).
Chakratirth Beach.
Diu Museum.
Jalandhar Beach (a depopulated beach as liked by the real sea enthusiasts).
Ghoghla Beach.
St. Paul's Church.
Shell Museum.
Let all your worries vanish and take a dive in the profound beauty of the land. Enjoy sea, sand, and history until you drop.