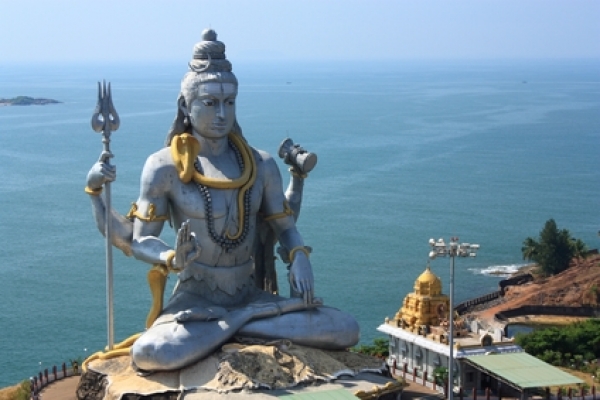 In devotion to Lord Shiva, Maha shivaratri is celebrated annually by Hindus all over the world.  It is observed either on the 13th night or on the 14th day of Phalguna every year. The festival falls between the month of February and March. Maha shivaratri is the most important festival among the other twelve Shivratris' celebrated in a year. It is popularly celebrated to esteem the Lord Shiva's glanderous dance; Tandava. Some others also celebrate it as the day Lord Shiva got married to Shakti.
On the day of Shivaratri devotees maintain a fast through-out the day, they offer bael leaves to Shiva's statues and chant on the spiritual mantra of Lord Shiva "Om Namah Shivaya".  Other rituals of the festival are to perform Puja to the deity of Shiva and visit the Shiva temples with a desire to earn favors from god. Some take the holy bath in the river Ganges during the auspicious time of sunrise.
Step by step rituals performed on the deity of Shiva Linga:
Performing Abhisheka by pouring Milk, honey, curd, ghee, sandalwood paste, butter milk or vibhuthi (holy ash) on the deity of Shiva Linga and decorating it with Bael leaves.
A camphor and turmeric paste is applied on the deity after the Abhisheka.
Offering fruits and yields of labor to the deity.
Lighting lamps and incense sticks.
Some devotees stripe their forehead with three horizontal lines of stripes that represent the three eyes of Lord Shiva. The festive day is considered sacred especially for women. Women fast and pray to Lord Shiva for a blessed married life. Unmarried women do the same for an ideal husband.
This year Shivaratri was celebrated on the 17th of February. Thousands of devotees from all around the world teemed into temples to offer their prayers.
Some famous temples to visit in India during the Maha shivaratri:
Mahakaleshwar – Madhya Pradesh
Somnath Temple – Gujarat
Kedarnath Temple – Himalayas
Kashi vishwanath temple – Varanasi
Trimbakeshwar – Nasik
Srikalahasti temple – Andhra Pradesh
Lokanath shiv temple – Bhubaneswar
Thillai Nataraja – Chidambaram
Ramanathaswamy temple – Tamil Nadu
Murudeshwara temple _ Bhatkal, Karnataka
Kapaleeshwarar temple – Chennai, Tamil Nadu
Arunachaleswarar temple _ Thiruvannamalai, Tamil Nadu
Srisaila Devasthanam  – Andhra Pradesh
Baidyanath temple – Jharkhand
Nageshwara temple (three resembling structures are found in Maharashtra, Gujarat and Uttarakhand
Keesaragutta temple – Telangana
Mallikarjuna Swamy – Andhra Pradesh
Grishneshwar temple – Maharashtra
Bhimshankar temple – Maharashtra
Omkareshwar temple – Madhya Pradesh
Lingaraj  temple – Bhubaneswar