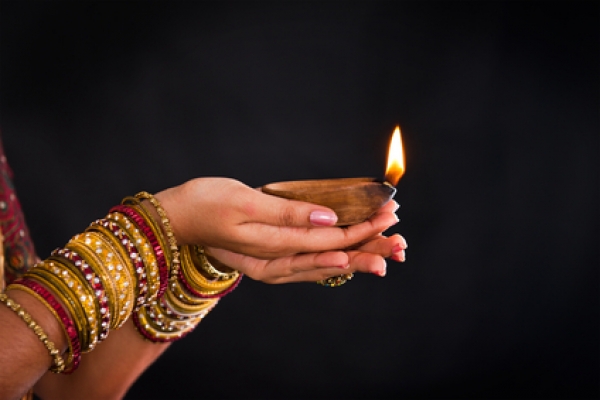 The Festival of lights, diwali is an ancient Hindu festival, which is celebrated every autumn. Diwali is celebrated for a period of five days that includes many rituals and preparation for the festival. Out of these five days, the darkest new moon night of the Hindu lunisolar month is considered as the main day of the festival. It is officially a holiday in India, Nepal, Sri Lanka, Myanmar, Trinidad and Tobago, Suriname, Mauritius, Guyana, Malaysia, Singapore and Fiji on diwali.
It is a custom to clean, renovate and decorate the house before diwali. Hindus wear new clothes and light diyas (lamps) inside and outside their homes on this day. When seen from space, India is said to be sparkling like stars in the sky during diwali. It is a sacrament for every member of the Hindu family to participate in the family puja customarily to goddess Lakshmi for wealth and prosperity. Followed by fireworks, feeding each other mithai (sweets) and exchanging gifts makes a typical diwali celebration.
The five days of diwali starting with Dhanteras, Naraka Chaturdasi, diwali, diwali padva and Bhau-beej. Each of these days signifies different things, especially the fourth day is considered to bond husband and wife relationship and the fifth day is dedicated to sister and brother bond.
How to celebrate Diwali?
Diwali is celebrated differently in different parts of India
Karnataka:
Diwali is celebrated a day before amavase (new moon) and the day following amavase is celebrated as naraka chaturdashi. Naraka chaturdashi is treated very auspicious; in northern Karnataka women take aarati on the men. On the fourth day rangoli and flower decorations are put on the entrance of the house to invite bali into their homes. Chakkulis, holiges and kajjaya are the specialties in Karnataka during the festival.
Kerala and Tamil Nadu:
In Kerala and Tamil Nadu diwali is based on Sri Krishna's victory over the demon narakasura. Hence, memorializes the triumph of good things over evil.
Maharashtra:
The festival begins in Maharashtra by taking aarati of a cow and its calf to symbolize mothers love. Maharashtrian businessmen give a lot of importance to this festival as it is considered to be an auspicious day for trading. Karanji, Chakali, Laddu, Chiwada and other festive snacks and sweets are prepared during the festival.
Gujarat:
When the rest of India celebrates diwali, gujratis have already celebrated the first day of diwali. Just like the maharashtrians gujratis also celebrate the cow and calf festival followed by Dhanteras, naraka chaturdashi, khali chaudas, lakshmi puja, beshtu varsh and bhai bij.
Goa and konkan:
Naraka chaturdashi is the first day of diwali for the Goans. The houses are cleaned and decorated with kandeel, mango leaves and marigold flowers. Straw and paper figures of narakasura stuffed with firecrackers are burnt at four o'clock in the morning, the day after. Kareet a bitter berry is crushed under the feet to indicate death of narakasura, hence the triumph of good over evil.
West Bengal:
In west Bengal goddess lakshmi isn't worshipped, instead goddess kali is worshipped. Kali puja is celebrated throughout the day on one of the days.
Other countries like Malaysia, Nepal, Singapore, and Sri Lanka also celebrate diwali with similar enthuse.