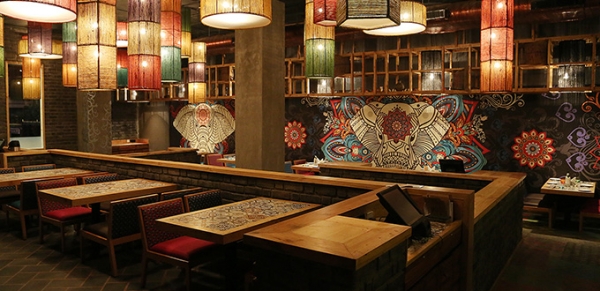 If you want to experience the most popular dishes from anywhere in India, this may be the place for you. Vinil and I stopped in for the soft opening of one of the upscale restaurants in Bangalore, and were impressed with what we found.
Located on MG Road just south of Brigade Road (nested next to the new City Bar, beside the Cafe Coffee Day lounge), it is set way back off the road. The ambiance is inviting, with lantern lighting hung from the high ceilings, and a multi-colored wall mural running the length of the restaurant; sweeping colors of painted wildlife and scenic views. The mural, which I liked very much was created by Ambika T. George.
Indian kitchen brings to you a little bit of everything; divided by states yet united by cuisine. This is a restaurant to celebrate, savor and relish India on a plate.
With a 5,000+ year history, Indian cuisine has been influenced by many cultures, most specifically Mughals, British, Arab and Portuguese. This, in combination with the intense spices used in Indian cooking, makes every meal a taste festival.
According to the manager of Indian Kitchen "Our aim is to broaden our customer's knowledge and experience of Indian cuisine. Few restaurants in Bangalore do that. Our chefs have traveled the length and breadth of the country knocking on every household door in an effort to understand, learn and bring back those recipes so we could pass them on to our customers. And too, our mixologists have also crafted the finest cocktails inspired by color and tradition of various states in India.'
Indian Kitchen is open Sunday-Thursday from 12:00 – 15:00, and again from 19:00 – 23:00. Friday and Saturday they're open from 12:00 – 15:00, and again from 19:00 – 01:00
We tried the Aloo Paratha and it was terrific; I enjoyed the Mangalorean Chicken. They feature dishes from Kerala, Goa, Andhra Pradesh, Bombay, Bengal, Calcutta, Punjab, Mumbai and others.
Desserts were varied, including all the regular options, like Ice Cream Sunday, cookies, cakes, and pastries, though I enjoyed the palm ice cream which was rich and tasty.
There is a full bar, though the Margaria, my staple drink, was good but a little off.
The menu is a bit pricey compared to other restaurants in Bangalore, though not as high as UB City, nor as low as the average restaurant in the MG Road area. With several drinks each, several starters and two main dishes and dessert we spent Rs. 6,000.
While during their soft launch they were still tweaking things, they've since had their grand opening. This new addition to the MG Road area, I believe is one of the restaurants in Bangalore to visit. It has something different to offer, a nice ambiance of just the right lighting, easy background music, and inspiring colors.
Check it out and come back to let us know what you think by placing your own review in the comments box below.
OUR RATING: 4 Stars
Also, check out this vietnamese restaurant in Bangalore.