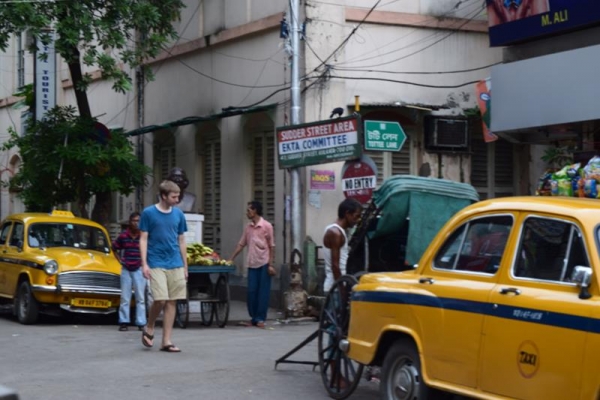 Think of Sudder Street when you land in Kolkata for best deals in hotels. Sudder Street, is located at the focal point of the city and on the rear of the heritage shopping complex Esplanade, is the place expats swear by. There also lay other privileges like conveyance, a homely atmosphere with a high expat population; even the tea vendors speak multiple foreign languages. As a feature writer in a magazine, I chanced upon some expats there to take interviews as I was told by my editor and ended up discovering that this is a parallel world, a semi-western one contrary to the gooey Bengali dignity. Also, to my great astonishment, I ran into this tea seller in his teens that could barely write his name but speaks Spanish as fluent as his own dialect and his expat customers patting his shoulder in disbelief. Sudder Street grew on him pretty thick.
History has a deep bearing on this place. Famous poet Rabindranath Tagore's Brother Jyotirindranath Tagore and his wife Kadambari Devi stayed in 10, Sudder Street. Since in theory, Sudder Street has a frail emotional chord of the Bengalis, there are quite a handful of Bengali shops to be seen, rest of the shopkeepers are mostly Biharis or Marwadi's, in fact there you will see a massive showroom of Marwadi style salwar-kameezes and Sarees. Alongside, the expat magnet is the handicraft and summer clothing stalls sprawling there. Sometimes you fall victim to fleece, so buy wisely.
I perhaps tasted the world's cheapest Chinese in Sudder Street, quite a mouth-watering for less money. I made friends with a British national first time in India toeing Mother Teresa's line. I got snapped by a Spanish national and grinned blushingly at the compliment 'beautiful Indian lass'. I sat on the dust without much fuss to hum along with some hippies. It felt as if I had cut across the barriers of nationalities to find myself in a salad bowl. I was overwhelmed with the experiences even though it was a short visit, but then that is Sudder Street, a mysterious parallel world within our much known Tilottama Kolkata.
You're likely to notice foreigners bargaining over clothes, books, handicrafts from roadside stalls and the busy shopkeepers trying to take them on board. If you pass by them, you will find yourself standing across the Indian Museum on Chowrangi Road.
Things you will find in Sudder Street that you will never find anywhere in Kolkata:
Cheapest food stalls
Many foreign currency exchange booths
Offices of tour agents
Veiled drug peddlers who sell drugs at the lowest prices possible
Inexpensive hotels
The inner breath of Sudder Street is its active and taboo less lifestyle. Time stops here and creates a holy nexus between nationalities.
When in Kolkata, you may also want to visit Sunderbans, a tiger reserve.