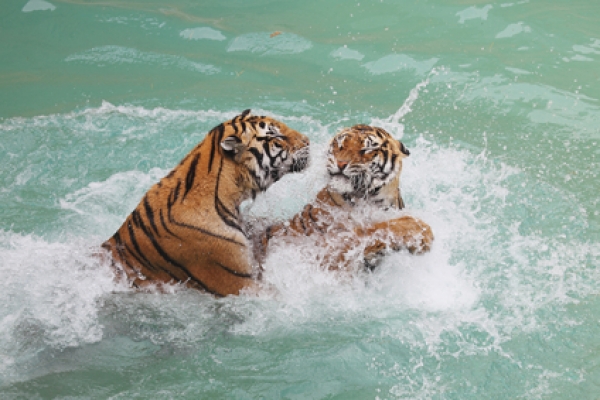 As the unsung heroes still die a hero, Sunderban is marching towards oblivion with every passing day with its beauty as breathtaking as ever. Due to nature's deathly blow and the governing authority's lack to sustain this beautiful tourist destination, it is slowly being engulfed by the river.
To summarize, Sunderban is a tiger reserve and a bio forest mostly visited by people across the globe for a glimpse of the world famous Royal Bengal Tiger, though the king only shows up to a few lucky ones. Sunderban means 'Beautiful (sundar) Ban (garden)' in Bengali and the place stands up to its name being situated in the thick mystic Mangrove forest of west Bengal.
You will be psyched to find the deities of the non-Aryan Hindu goddesses namely Manasha (the daughter of lord Shiva from Hindu mythology) and Bonobibi (the forest goddess) still being worshipped here by the local fishermen. You will feel like being cut off from civilization with your cruise on the river Maatla tearing apart the unruly waves and completely deserted landscapes for company, what can be more thrilling than this?
How to reach Sunderban?
To get to Sunderban, you'll need to reach Canning in the first place which connects Kolkata by train, then opt for a cruise ride which takes a matter of two days (including a night halt mid-river) to complete sighting the entire area within human reach. And if you're lucky enough to catch a glimpse of the nearly extinct Royal Bengal Tiger, then your journey becomes fruitful. The ticket prices include the food and luxury charges on the cruise, and we recommend the government cruises as they ensure the utmost safety.
What is more interesting about Sunderban is, this can be visited in a jiffy beside a Kolkata tour as canning is only 132 km from the capital city of West Bengal.
Read about other tiger reserves in India.