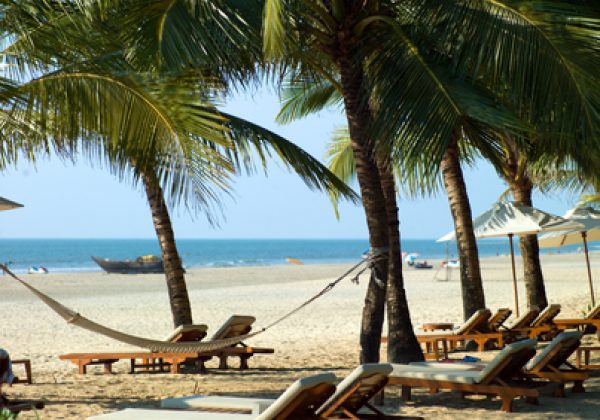 The most exotic sea destination in India, Goa is the ultimate spell caster. It has no shortage of travelers around the year to get wind of the local bohemian life and loosen up. Since Goa is just a drive away from Mumbai and Bangalore, every weekend Goa sees a lot of party animals coming down to chill from Mumbai and Bangalore thus feeding life to Goa's blithesome shores. The impressive coastline is the main tourist magnet, which also boasts of a long cultural heritage.
Mostly young people and honeymoon couples have Goa as their pick to spend the unforgettable time of their lives. However, here are some places to visit in Goa:
Water sports
Water sports in the sea attract many foreign visitors and adventure junkies. Make sure to check the safety measures before hitting any such water sport. There are other beach activities that I propose you to give a try. To name a few such activities, Banana boating (adventure sport that mostly psyches up the kids), jet skiing, water sporting, parasailing, and Dolphin cruises are the key attractions here.
One Night stay at the Beach
The Sunset spells a fresh life to most of the beaches in Goa. The weather livens up by the colorful crowd gathering in the beaches to while away time. To nail the most happening beach in Goa, be sure to land up in the Anjuna where quite a good deal of beach shacks remain open all night, and you can party to no limits with your friends overnight. Arambol beach floods you with music and open jam session along with your drink by the beach.
Wildlife hunting
Though a little neglected, Goa's wildlife is worth a visit. Penetrate the wilderness to witness the breathtaking beauty of Bhagwan Mahavir Wildlife Sanctuary which is situated near Molem. The second best wildlife sanctuary here is the Bondla wildlife sanctuary. Have an eyeful on the waterfalls; Dudhsagar Falls tops the list among the lot.
Shopping spree
Goa is a shopper's paradise and Saturday night bazaars are invariably the main shoppers' attraction. Flea market has charmed its way to glory on being the most famous market here which renders a wide range of chunky and fashionable goodies like jewellery, souvenirs. To catch the flea market, hit the Anjuna beach on a Wednesday. You can easily bargain here and the shops are lined along the beach.
Go Biking
There are more apart from the beaches in Goa, if you shift your focus a bit towards discovering the exotic and intriguing pathways along the paddy fields. For ease, hire a bike and ride your way to glory. Halt by something which catches the eye, have an eyeful, then get going.
Party all Night
The real fun starts when darkness sets in. Hop from one bar to another to see what is happening or go straight to shacks and sway over the beats of loud music. Enjoy drinking all night long and have a blast.
With the night cropping in, the fun bloats a bigger high. Goa has myriad nightclubs and discos to lure the party animals. To name a few: Club Cabana, Tito's, etc. Have a blast with your friends all night with unlimited drinks and food for company.
Visit the Casino
Gambling is legal in Goa, so it is not unusual to see several casinos scattered across major hotels. Some are even found on boats. The casino cruise is one of the places to visit in Goa if you come from a place that is alien to casinos.
The major hotels have bigger casinos in Goa. Certain yet sexier casinos are located in the cruises which overlook the vast ocean and serves exotic drinks and food on board itself. To name a few cruises: Casino Royale, Casino Carnival, and Casino Caravela.
Also, check out Palolem Beach in Goa.